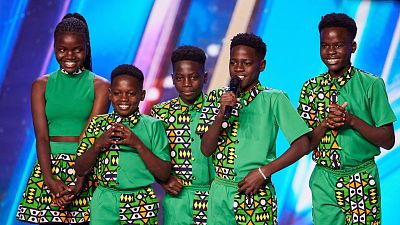 Uganda Ghetto Kids has made a powerful debut on Britain's Got Talent – leaving an unforgettable impression on the judges and audience alike.
Thank you for reading this post, don't forget to subscribe!
Britain's Got Talent officially began its 16th season on Saturday and one of Africa's most popular internet dance groups "The Ghetto Kids" from Uganda is on the show.
The group thrilled the judges during their performance and earned "The Golden Buzzer" which takes them straight to the live shows.
Formerly triplets Ghetto Kids, founded in 2014 by Daouda Kavuma, The Ghetto Kids consists of 30 children who live in an orphanage in Uganda. They put up a spirited performance, which left all the judges in total admiration.
Their dance performance was so electrifying that they made history. Italian choreographer Bruno Tonioli couldn't hold his excitement and the golden buzzer, which is to be pressed after the end of the show, was pressed in the middle of the performance by one of the judges who couldn't control his joy watching the kids dance.
Headed by Daouda Kavuma, the orphanage provides shelter to 30 homeless children, some orphans.
The Ugandan ghetto kids have attracted the world's attention with their outstanding dance performances. The hard work they invest in dance has earned them both national and international recognition.
Eager to gain wider recognition for their talents, these individuals decided to take their shot on the hit British television reality show, British Got Talent.
The group was able to land a spot in the competition show, and their performance was one to write home about.
Ugandan Ghetto Kids lit up the room with their first performance and got the audience and the judges up on their feet, and they were thrilled at what the children were doing.