THE SIMPLE GUIDE TO RESOLVE YOUTUBE VANCED CONTENT. Here are some suggestions.
Thank you for reading this post, don't forget to subscribe!
FIRSTLY, if you fail to verify your Google account with any Application, you may encounter various errors. Therefore, you can eliminate this problem by logging out of your Google account and logging back in.
Access your device settings menu and after that click on the Account and Backup option that manages your account and select the VANCED MICRO G option and choose your Google account. Remove the account by clicking remove account. Once done, run YouTube VANCED Application and log back into your Google account to see if the issue persists.
THE SECOND METHOD. If there is a CACHE problem in the YouTube VANCED Application, it can also cause errors. You can clear the data in the CACHE by opening the settings menu clicking on Application and selecting the YouTube VANCED Application. Click on the storage option and clear by clicking the clear data option. After this process, run the YouTube VANCED Application again to check if the problem persists.
THIRDLY, If the Application is out of date, it may cause some features to be disabled or not visible. You can use the VANCED manager Application to resolve this. First, run the VANCED manager Application stored on your device and uninstall YouTube VANCED and VANCED MICRO G respectively. After the uninstallation is complete, install VANCED MICRO G and YouTube VANCED respectively. Once the installation is complete, run the YouTube VANCED application and check if the problem persists.
Bonus: If you encounter errors due to unstable network connections, restore your modem if you have access to the internet via Wi-Fi. If your access to the internet is via mobile data, turn it off and on again to reconnect.
The original story (published on April 19, 2023) follows:
YouTube Vanced is an alternative service that offers many of the platform's premium features for free. Other apps such as Revanced were also born from YouTube Vanced.
However, it appears that currently, multiple YouTube Vanced users are facing an issue where the app is not working, or the videos are not loading.
According to recent reports, several YouTube Vanced users are unable to play videos, getting a 'The following content is not available on this app' error message.
Youtube just killed Vanced for good [other]
We may have lost the battle, but the spirit of Vanced lives on in our hearts. Farewell, sweet prince. You will be missed.
Youtube Vanced has been officially blocked and cannot play videos.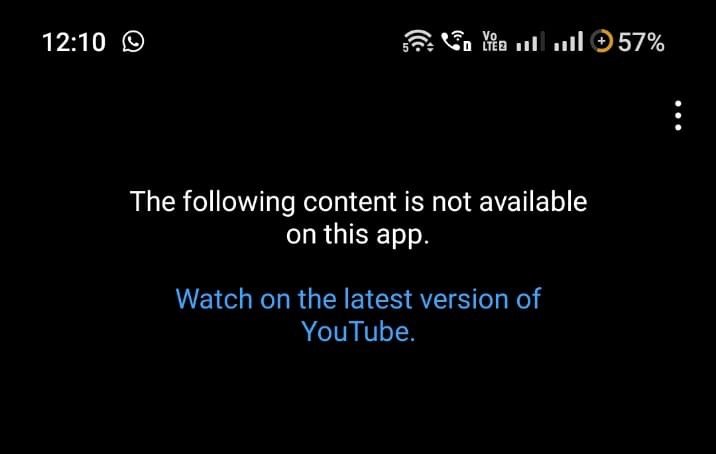 It is noteworthy that although a considerable number of users have been affected, there are still others who can watch videos without any difficulty. Therefore, it appears that the issue is specific to certain accounts or regions.
For some people, the situation started with a throttling in the loading speed of the videos.
Videos are suddenly taking a LONG time to buffer. Is anyone else having this issue? I'm trying to figure out if it's a Vanced issue or if my ISP is throttling me.
I've been using Vanced with zero issues for years now. Suddenly beginning a few days ago, videos are taking forever to buffer. I have to wait forever for them to load and they sometimes need to pause midway through to buffer a long time again.
Revanced, the Vanced spin-off app, also seems to be having the same issue.
Videos stop playing after a minute.
The app was working absolutely fine until a few hours ago. Now when I watch a video it will pause and start buffering after about a minute without restarting. Playing another video will work but the same problem will happen after another minute.
Potential workarounds

Some people suggest that the problem is related to MicroG, a tool that allows you to log into Vanced and ReVanced with your Google account.
In that case, as a potential workaround, go to your phone Settings and look for the option 'Passwords and Accounts', look for the account associated with MicroG and remove it. Then, log in again from the Vanced app.
If the above doesn't work, Google may have limited your account. So, another potential workaround is to create a new account and use it to log into Vanced
Same thing happened to me. I found a workaround; you can make a new Google account and it works. Hopefully a temporary fix because I would like to use my main account.
Update 1 (April 12, 2023)
04:48 pm (IST): One of our readers has confirmed that this issue has nothing to do with microg and users just need to enable vp9 or protobuf spoof to make it work.
Thanks for the tip: Gysi Lame!
Update 2 (April 13, 2023)
03:14 pm (IST): It seems that this issue is from the YouTube side as more and more users have started experiencing it.
There is a potential workaround that involves sliding down the video (without closing it, but minimizing it within the YouTube UI itself) and 'spam' (press multiple times) the 'play' button.
Update 3 (April 14, 2023)
12:25 pm (IST): A member of the MicroG dev team confirmed to us that everything points to Google flagging YouTube third-party apps where you have logged in through the tool.
Therefore, if you uninstall the MicroG app from your device (or even if you just enable Vanced 'Incognito Mode') you will be able to play videos. However, you will not have access to your playlists, history, etc.
If after uninstalling MicroG and using Vanced you reinstall the tool and log in again, the videos will play but with a buffer limited to only 1:20 min.
The developer will try to contact the MicroG team this weekend to start looking for a fix. So, fingers crossed that everything goes well.