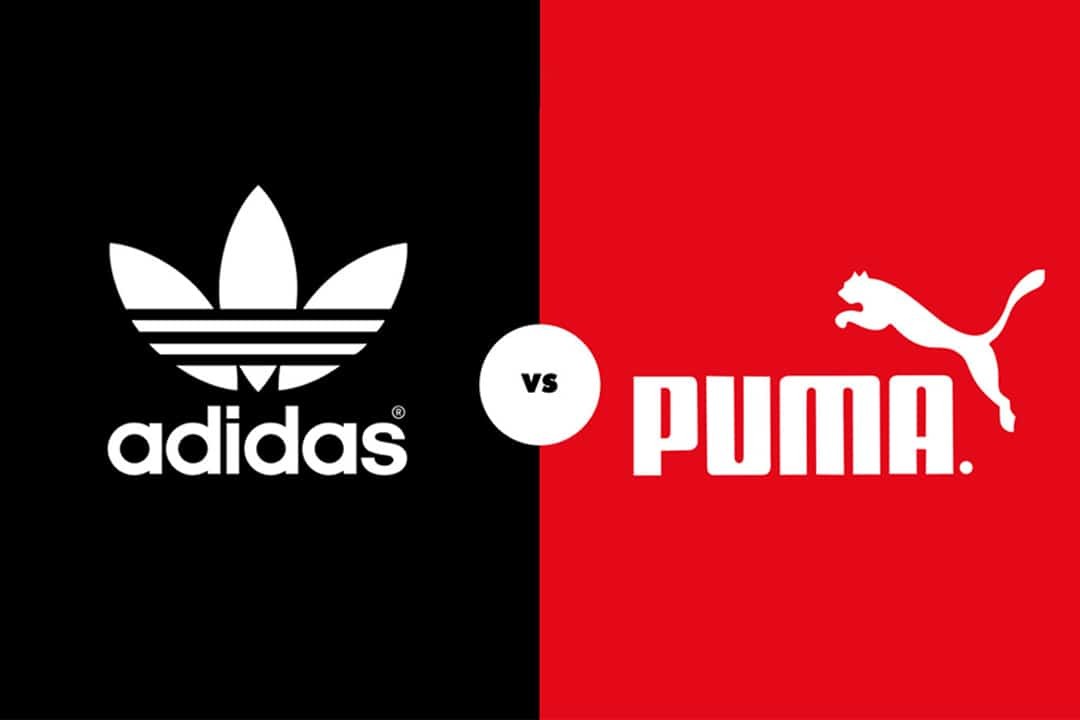 The Sneaker Rivals With Sizing That Doesn't Align
Adidas and Puma – two giants constantly compared in the world of athletic footwear. But despite their tangled history, their sizing is far from aligned.
Whether you're loyal to the 3-Stripes or the Leaping Cat, you can't assume the same shoe size will fit across both brands. The bitter sneaker rivals have sizing differences that every buyer should know.
Same Roots, Different Scales
Adidas and Puma seem cut from the same cloth – and originally they were. The brands were born when two German brothers split their shoe business after a bitter feud.
Rudolf Dassler launched Puma in 1948, fiercely competing with brother Adolf's rebranded Adidas company across town. From these common origins, you might expect shared approaches to shoe sizing.
But the brothers diverged in their sizing scales as they jockeyed to outdo each other. They focused on different areas of fit and prioritized distinct athletic markets. Over decades of rivalry, the sizing gap widened despite the shared roots.
Today, the variations between Adidas and Puma shoe sizing persist. The bad blood of the Dassler brothers leaves a tangible legacy for customers trying to nail the right shoe size.
Where Adidas and Puma Diverge
Attempting the same shoe size across Adidas and Puma often ends in discomfort and poor fit. The key sizing differences stem from:
Differing Lasts: The shoe "last" is the form around which a sneaker is constructed. Puma tends to use narrower lasts, leading to small size discrepancies.
Fit Focus: Adidas emphasizes toe room in most models, while Puma prizes a glove-like midfoot fit. This changes ideal sizing.
Prevalent Markets: Adidas gained more market share in wider-footed American markets, influencing larger sizing norms. Puma found favor in European fashion, tuning sizing smaller.
Brand Heritage: Differences ingrained over decades are tough to overhaul. Sizing habits evolve gradually within brands.
How to Get the Right Size
Since Adidas and Puma size differently, getting the perfect fit requires extra care:
Don't Assume Your Size: Your Adidas or Puma shoe size may not convert neatly across brands. Recheck sizing for each new pair.
Try Before You Buy: Shop in-store to test sizing and fit firsthand whenever possible. Online is riskier.
Read Reviews: Look for feedback on sizing quirks before purchasing particular models. Some run large or small.
Know Your Measurements: Have a professional measure your foot length and width. Compare to size charts for each brand and shoe type.
Order Multiple Sizes: When shopping online, don't hesitate to purchase 2 or 3 sizes then return what doesn't fit. It's better than discomfort.
Focus on Fit Feel: Go beyond the size number to how the shoe actually fits on your foot. The perfect Adidas or Puma will feel great.
Adidas vs. Puma: Which is Best For You?
Once you nail the sizing, choosing between Adidas and Puma comes down to personal preference.
Adidas excels at sport performance with cushioned runners and tech-loaded cleats. Puma wins fashion points with stylish lifestyle sneakers and apparel collabs.
Both make quality athleticwear, just tuned to different priorities. The brand you prefer likely comes down to style and intended use. Let your sizing experience guide the final purchase.
Now that you know how vastly Adidas and Puma approach fit, you can find that just-right shoe in your side of the sneaker rivalry.
Shop Adidas and Puma With Confidence
Armed with sizing insights, you can browse iconic sneakers from Adidas and Puma worry-free.
On Adidas.com, find classics like Superstars and the latest UltraBoost runners sized to their signature roomy fit.
Puma.com boasts slimmer-fitting casual styles like the Suede and fashionable collabs sized on Puma's snugger European scale.
Whichever you choose, get the pair that fits you flawlessly. Use sizing smarts to experience these sneaker rivals made famous by family feud. Let the shoes, not the size, determine your loyalties.