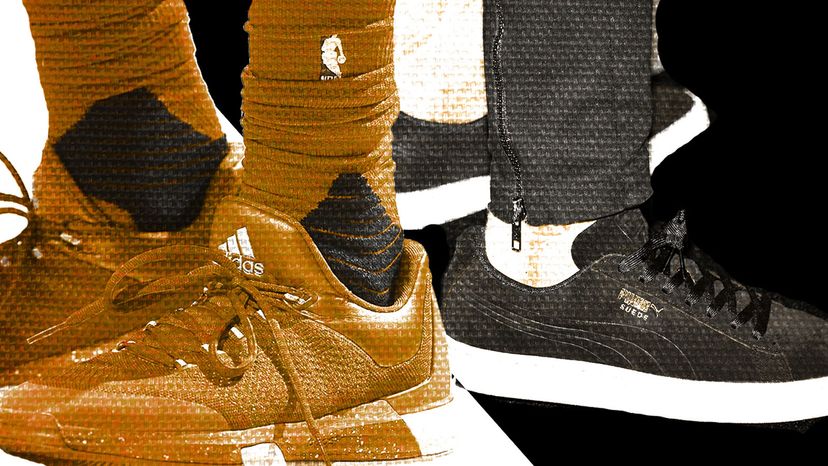 Sneaker Showdown: Adidas vs. Puma
Adidas and Puma – two legendary brands battling for sneaker supremacy decades after their 1948 split. Who builds the best kicks today?
Let the sneaker showdown begin as we compare heritage classics, performance powerhouses and forward-thinking styles. May the best shoes win!
Chapter 1: Heritage Classics Face Off
First, a head-to-head between the old school classics that started it all:
In one corner, Adidas brings the Superstar, the 1969 basketball OG renowned for its unmistakable shell toe.
In the other, Puma counters with the Suede, the 1968 legend wrapped in supple suede that remains eternally stylish.
And the winner is: the Adidas Superstar! While both are icons, the Superstar's cultural influence and comeback curb appeal gives it the edge. A tough battle between two all-timers.
Chapter 2: Modern Performance Showdown
When it comes to today's athletic performance, these models take the gold:
Adidas dominates with the UltraBoost, the innovative runner that launched a movement for its light Boost midsole.
Puma fires back with the Deviate NITRO elite racing shoe, which keeps competitive runners flying ahead with its springy cushioning.
This round goes to: the Adidas UltraBoost! Its energetic comfort and dynamic support makes it unmatched across sports. But the Deviate NITRO earns a nod for pure speed.
Chapter 3: Style Innovators Face Off
For head-turning style, these sneakers shine:
Adidas shows out with the chunky, divisive Ozweego, blending retro and futuristic elements for a funky look.
Puma answers with the also-polarizing Mayze, featuring an aggressively thick sole inspired by 90s trail runners.
This battle comes down to personal taste. The Ozweego or Mayze comes out on top depending on your style. Both win for daring to push design boundaries beyond the norm. A tie here!
The Final Verdict
After many fierce battles, which brand takes the sneaker showdown crown today?
While Puma holds its own, the winner is Adidas! It's hard to beat their combination of cultural clout, performance innovation, and heritage staying power.
But Puma is no slouch, excelling in speedy performance shoes and stylish lifestyle sneakers. At the end of the day, you can't go wrong giving your feet to either of these legends.
Shop Winning Adidas and Puma Kicks
Ready to explore the catalog of winning sneakers from Adidas and Puma yourself? Shop online to experience their latest and greatest.
Adidas offers classics like the Superstar and Stan Smith, updated performance UltraBoost runners, and hype casual styles like Ozweego.
Find Puma's iconic Suedes remixed with flair along with new innovations like the Deviate NITRO and visionary designs like the Mayze.
Whichever you choose, you'll rep footwear history and quality made famous by an endless sneaker rivalry. Lace up then step out and show them off in confidence. Your feet win every time.